Starting Tutorial
From MetroSim Wiki

Warning!
Don't edit this page without any permission, only for correcting the English words and layout.
New to the MetroSimulator and don't know how to start the simulator or don't know how the start menu works? On this page you'll find how to start and play the sim.
Downloading the program
Before you can play the sim you need to download the .exe file from the homepage.
Place the file into your map and install the file.


Some browsers report MetroSimulator as an unsafe file, but don't worry you can download it safely.

DirectX®
Before you can start the game you need to be sure that you have installed the latest DirectX version. You can download the latest version HERE
Starting for the first time
The first time you open the MetroSimulator there will show a setupwindow were you can set your resolution, graphics and your Graphic Card (if you have more than one).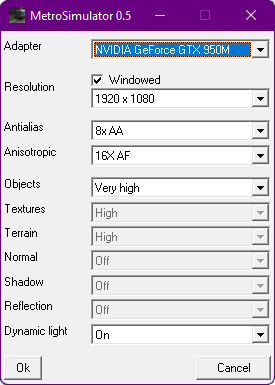 As you see not every function is available in this beta version.
Now it is time to open the MetroSimulator. Now you see a window were you can choose your route (if more routes are loaded). After that you can select a activity or explore the map in explore. For people with the source files there will be a editor button. Before you chose your activity you can select two settings on top of the window. The first one is player mode, in this mode it is all yours. Or play in AI mode and let the AI do all the work for you. The other one is the realistic mode and arcade mode, in arcade mode coupling and shunting is easier but less realistic.

The actual startup menu as you see it.