Repaints
From MetroSim Wiki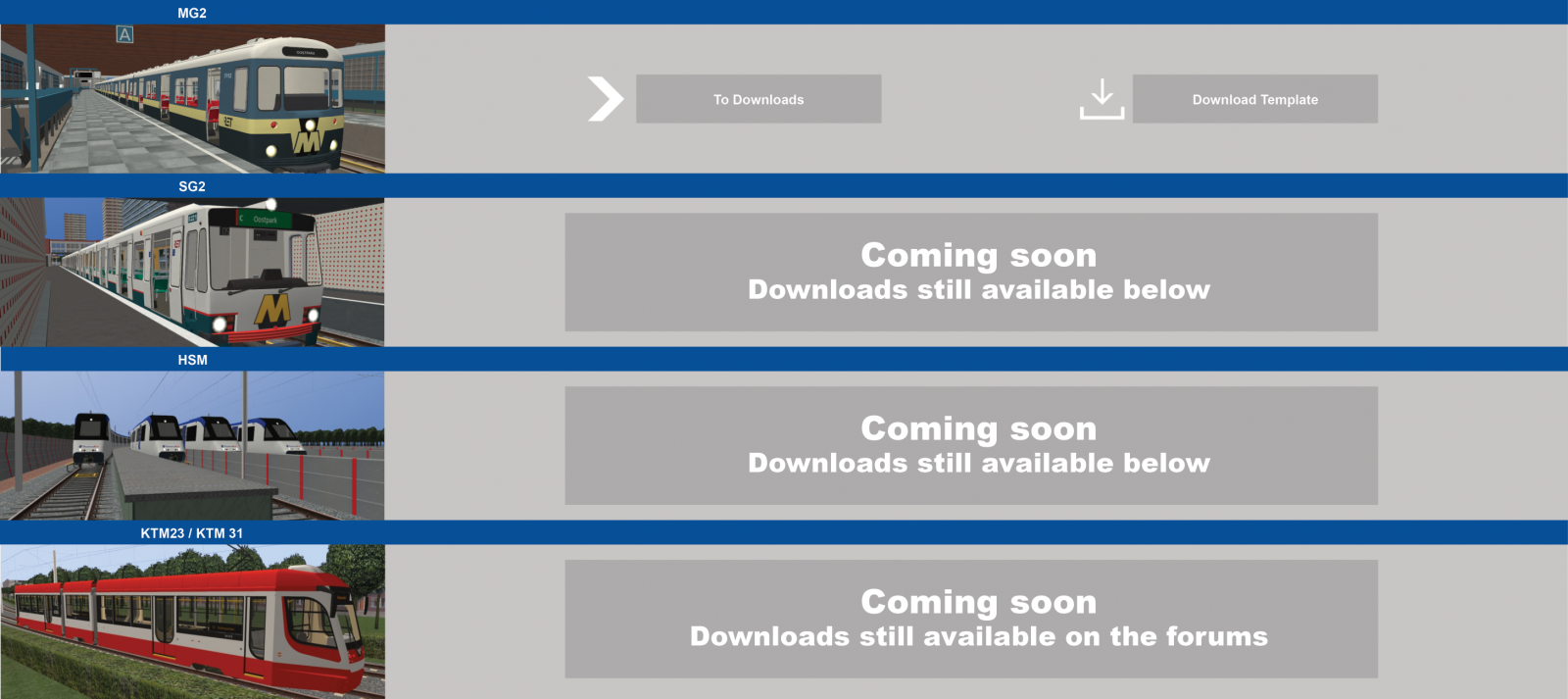 Warning!
• Don't edit this page without any permission, only for correcting the English words and layout.
• Uploading your own textures here is forbidden, for adding send it to senjer by using the forum.



Some downloads are down at the moment, try it again after the database is created.
SG2 Repaints
Name
Creator
Version
Download
Description
Connexxion

Josh
1.0
Available
Download
–
NS Sprinter

Josh
1.5
Available
Download
–
Beta 4 metro

Josh
1.0
Available
Download
–
Underground

Josh
1.0
Available
Download
–
RET new style

Senjer
1.0
Coming Soon
–
Arriva Spurt

Senjer
1.0
Available
Download
–
McDonald's

Senjer
1.0
Available
Download
–
Stockholm SL

Senjer
1.0
Available
Download
–
Thalys

Senjer
1.0
Available
Download
–
SG2 in MG2 colors

Senjer
1.0
Available
Download
–
Red Bull

Senjer
1.0
Coming Soon
–
NS old Style

Senjer
1.0
Available
Download
–
Breng

Senjer
1.0
Available
Download
–
BRU

Senjer
1.0
Available
Download
–
Graffiti Metro

Senjer
1.0
Available
Download
–
Feyenoord Metro

Senjer
1.0
Available
Download
–
Donald Duck

nstomjanssen2000
1.0
Available
Download
–
SMRail

Senjer
1.0
Available
Download
–
SMR

12kelvin21
1.0
Available
Download
–
RATP

Metroverslaafde
1.0
Available
Download
–
Valleilijn

Senjer
1.0
Available
Download
–
HTM

Sjoerd
1.0
Available
Download
–
Combination Packs
Name
Creator
Version
Download
Description
Fyra Pack

Senjer
1.0
Available
Download
–
NS Benelux Pack

Senjer
1.0
Available
Download
–
Thalys Pack

Senjer
–
Coming Soon
–
DB Pack

Senjer
–
Coming Soon
–
HSM
Name
Creator
Version
Download
Description
Fyra

Senjer
–
Coming Soon
–
ICE3

Senjer
–
Coming Soon
–
Thalys

Senjer
–
Coming Soon
–
NS Sprinter

Senjer
–
Coming Soon
–