LU S7 and S8 Stock
Jump to navigation
Jump to search
London Underground S7 and S8 stock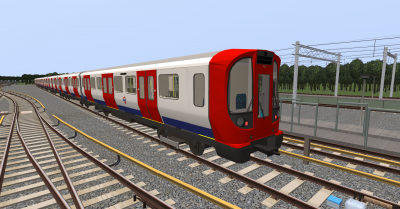 Series
S7: 21301-21375
S8: 21001-21075
Traction power supply
3rd/4th rail
Protection
ATB, Coded Manual, Restricted manual, Tripcock.
Max. speed 100 km/h
Download
The London Underground S7 and S8 Stock is a fleet of subsurface rolling stock used on the London Underground since 2010. Manufactured by Bombardier Transportation's Derby Litchurch Lane Works.
It has replaced all A, C and D stock trains on the network, in order to introduce a standardized train series for all subsurface lines on the network. Two variants are currently in use on London; the S7 (consisting of 7 cars) on the District line, Hammersmith & City line and Circle line, and the S8 (8 cars, and a different seating arrangement) on the Metropolitan line.
In the simulator
These trains can be used on third-rail and ATB-protected parts of the network. It includes
Be careful: only the LU S7 can be used like any other train. The S8, because of its length, cannot stop at the stations while drived by AI. Moreover, the plateforms in Simvliet are almost at the exact length of the stock, when in Rijndam these are a little bit longer.
Special animations
Shift+X: Left cabin door
Ctrl+X: Right cabin door
Ctrl+Shift+X: activate/deactivate window wipers
Activity codes
You can place a train containing the S stock train your acitivity by using the following lines in your ACT file:
<train pack="London" file="LUS7.xml"/> (S7 stock, complete train)

<train pack="London" file="LUS8.xml"/> (S8 stock, complete train)

External links