München MVG Type A
Jump to navigation
Jump to search
München MVG Type A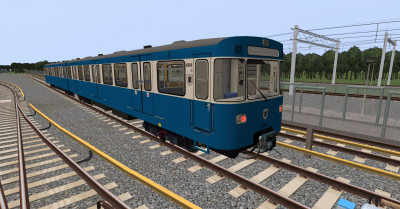 Series
A2.1: 101-151
A2.2: 161-178
A2.3: 201-253
A2.5: 301-348
A2.6: 351-371
Traction power supply
3rd rail
Protection
ATB / ZUB max. speed 80 km/h
Download
The MVG Type A is a train type operated by the Münchner Verkehrsgesellschaft on the Munich U-Bahn system. It is the first and oldest type of rolling stock in service on the Munich U-Bahn, and is used on all lines. The prototypes were delivered in 1967, and the full-production units from 1970 until 1983.
Every Type A train consists of two permanently-coupled cars. The car at the northern end is numbered 6xxx, while the car at the southern end is numbered 7xxx. The trains are equipped with automatic Scharfenberg couplers, enabling operation of up to three units together to form a six-car train.
A single 2-car unit is typically reffered to as a "kurzzug" (short train), two coupled units as a "Vollzug" (full train), and three coupled units as a "Langzug" (long train).
Update
If you experience light issues (the model looking like it stands in extreme sunlight) since using Metrosimulator 3.15, please re-download the model; this issue has been fixed.
In the simulator
These trains can be used on third-rail and ATB-protected parts of the network. It includes
There are two liveries available in the simulator:

Series A2.1 / A2.2: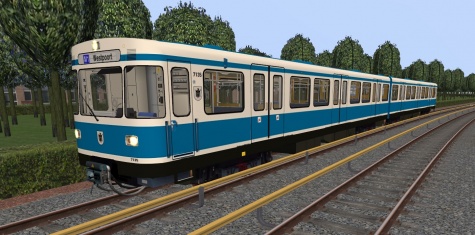 Series A2.3 / A2.5 / A2.6: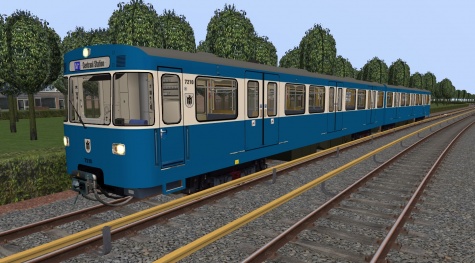 Aside from the outside colors, there are also some small differences inside.

To use them in your own activities, you can use these codes:
<train pack="Munchen" file="MunchenA21.xml"/> 
<train pack="Munchen" file="MunchenA23.xml"/> 

When driving in the simulator, please be aware that a 2-car unit of this type of train is longer then a 2-car Rotterdam unit. Therefore, if you drive a train consisting of 3 2-car units, and you stop at the blue nr.3 stopmarker, the last car of your train is likely not to have entered the platform yet.
Original 3D model by DT3-LZB, conversion to Metrosimulator by Sjoerd Ydema.
Special animations
Shift+X: Open/close door to the passenger compartment
Ctrl+X: Switch to repaintable destination display
Ctrl+Shift+X: activate/deactivate window wiper
External links