Class 230
Jump to navigation
Jump to search
Class 230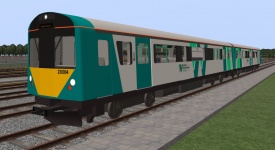 Series
230003-230005 (Western)
230006-230011 (Wales)
230021-230029 (repaint)
Traction power supply
Diesel-electric
Protection
ATB, Tripcock. Max. speed 100 km/h
Download
The British Rail Class 230 or D-train is a diesel electric multiple unit or battery EMU built by rolling stock manufacturer Vivarail for the British rail network. The units are converted from London Underground D78 Stock, originally manufactured during 1980 by Metro Cammell. The conversion re-uses the D78's aluminium bodyshells with refurbished interiors, a new driver cab, the traction motors and bogies, and replaces the four-rail traction-current system with a diesel-generator or battery-packs.

Operations in the simulator
In the simulator, three versions will be available
The London Northwestern Railway version (vehicle numbers 230003-230005)
Transport for Wales/Keolis (vehicle numbers 230006-230011)
A repaintable version (vehicle numbers 230021-230029)
These trains can be used on all ATB-protected parts of the network. It includes
As these are powered by a diesel generator, don't forget to turn on the generator with Ctrl+E (Metrosimulator 3.15. In 3.14, the diesel generator is on by default).
In the drivers cab, a small modification has been made compared to the real trains; the AWS-panel has been replaced by a RET ATB panel, as the British AWS system is not present in Metrosimulator.
Special camera positions:
4 - Passenger view 1
5 - Passenger view 2
6 - Cab 1 standing right side
7 - Cab 2 standing right side
The package does not include activities using the Class 230. Use it in explore mode, or make your own activities.

In order to use the vehicles in your own activities, you can use these code lines:
<train pack="London" file="Class230_Western.xml"/>
<train pack="London" file="Class230_Wales.xml"/>
<train pack="London" file="Class230_Repaint.xml"/>
The texture file for the repaint Class 230 can be found under Data/Custom/Textures.
Special animations
Shift+X: Left cabin door
Ctrl+X: Right cabin door
Ctrl+Shift+X: activate/deactivate window wipers

External links