Tunnel Auto Train
From MetroSim Wiki
TAT7 Tunnel Auto Train
Series
7701-7720
Other
Included in RijndamRail update
Download
The Tunnel Auto Train has been build for use on the channel tunnel route in the Rijndam 2022 v1.4 map. The train is inspired on the "Le Shuttle" auto-trains on the Calais (FR) to Folkestone (GB) service through the Channel Tunnel.
The train in the simulator consists of two end sections with loading/unloading doors (and a small passenger compartment), and 5 middle sections where cars are parked for the trip through the tunnel. Each section also has passenger doors, should an evacuation be needed.
The model for the simulator was build based on the RR-DDM middle carriage, and therefore shares a lot of components with the RR-DDM.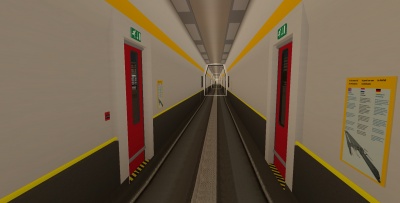 Operation in Metrosimulator
A normal trainset in the simulator will consist of a locomotive, two 'Tunnel Auto Train' units, and another locomotive. This second locomotive is for safety; should the train have to reverse out of the tunnel in an emergency.
When you place the train in the simulation, the loading doors on the end sections will be opened. These loading doors close when the train driver raises the (no.1) pantograph on the locomotive. Lowering the (no.1) pantograph again will re-open the loading doors.
The passenger evacuation doors have been defined as normal left/right doors, and function in the same way as passenger doors on other trains in the simulator.
Clicking on the end sections will get you on board that end section, in the passenger compartment. In the simulator, this is defined as a cabview (but without driving controls), so from here you can activate the animations listed below.
Note: As the tunnel route in Rijndam 2022 v1.4 functions under ETCS train protection, TRAXX locomotives should be used for traction.
Special animations
Shift+X: Open/close internal passenger compartment door
Ctrl+X: raise/lower footplate above coupler
Enter: Play 90 second start-of-journey security announcement
Activity codes
You can place a standard Tunnel Auto Train consist in your acitivity by adding the following in your ACT file:
 <consist start="HTT2">
  <train pack="TRAXX" file="TRAXX_Railpool.xml"/>
  <train pack="RijndamRail" file="TAT7.xml"/>
  <train pack="RijndamRail" file="TAT7.xml"/>
  <train pack="TRAXX" file="TRAXX_Railpool.xml"/>
 </consist>

External links