FGV 2300
Jump to navigation
Jump to search
FGV 2300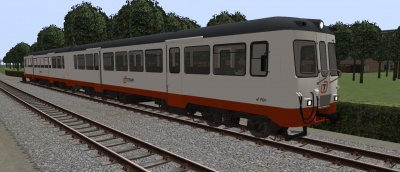 Series
2301-2316
Traction power supply
diesel
Protection
ATB / ZUB max. 80km/h
Download
The FGV 2300, is a two-car diesel powered unit that was in service in "Ferrocarrils de la Generalitat Valenciana", operating in the Alicante's section, commuting first between Alicante (La Marina) – Denia and later with the arrival of the TRAM system, from Benidorm – Denia.
These units were inherited from FEVE, in 1988 and with the transfer of competences of the narrow gauge network from FEVE to FGV, the Valencian public entity kept 8 diesel units to continue service between La Marina – Benidorm – Denia.
During the last refurbishment of these units (2005-2006), all of them were transformed into the FGV 2500 series, except 2, which remained in original state.
Series: 2300
Type: DMU
Formation: Married Pair
Bearing: B'2 '+ 2'B'
Composition: Mc + Mc
Numbering: 2301-2302 to 2315-2316
Constructed: 1966 to 1968
Reconstructed: 1983 to 1985
Track gauge: 1000 mm
Traction: Hydraulic diesel
Power: 310 kW
Motors: 2 X PEGASO 9152/2
Transmission: Voith Diwabus 506
Total length between couplers: 34,920 mm
Total weight: 46.4 tons
Speed: 80 km/h
Seats 2nd class: 96
Valencian version
L'automotor 2300 de FGV, es un automotor diesel compost per dos coches que estigue en servici en la xarcia Alacantina dels Ferrocarrils de la Generalitat Valenciana, fent la relació desde Alacant (La Marina) – Dénia i posteriorment en l'aplegada del TRAM, Benidorm – Dénia.
Estes automotors procedixen de l'antiga FEVE, al any 88 en el traspás de competències de la ret de via estreta de FEVE a FGV, l'entitat pública Valenciana se va quedar en 8 automotors diésel per a continuar prestant servici entre La Marina – Benidorm – Dénia.
Durant l'última renovació destes unitats (2005 - 2006), totes foren transformades en la nova serie 2500 de FGV a excepció de 2 unitats, que foren conservades en estat original.

Sèrie: 2300
Tipus: DMU-2
Rodament: B'2'+2'B'
Composició: Mc+Mc
Numeració: 2301-2302 a 2315-2316
Construides l'any: 1966 a 1968
Any de reconstrucció: 1983 a 1985
Amplada carril: 1000 mm
Tracció: Dièsel hidràulica
Potencia: 310 kW
Motors: 2 X PEGASO 9152/2
Transmissió: Voith Diwabus 506
Longitud total entre topalls: 34.920 mm
Pes total: 46,4 t
Velocitat: 80 km/h
Seients 2a classe: 96
Operations in the simulator
The 2300 is a narrow gauge (1000mm) diesel powered train, since in reality it used to run on the railway to Denia, it is only fitting it will do this too in the simulator. The diesel railway to Denia in Rijndam 2006 has been converted to meter gauge, you can now use this train between Rijndam Zuid (track 3) and Denia.
The train can be coupled up to a length of three units.
In Rijndam 2022 it can be used on the dual gauge Museumline (spawnpoint WGM7).
Valencian version
El 2300 es un vehicle diesel de via estreta (1000mm), ya que en la realitat el seu recorregut era cap a Dénia, en el simulador, es normal que faça lo mateix. En Rijndam 2006, la llinea diesel que va fins a Dénia, fon transformada a via metrica. Ara podeu utilisar el tren en este tram entre Rijndam Zuid (Rijndam Sur) i Dénia.
El numero máxim de vehiculs que pot tindre una mateixa composició, es de 3 unitats.

The basic model was made by Guillermo Bolea.
Conversion to Metrosimulator by Sjoerd Ydema.
Special animations
Shift+X → Lower/raise footplate over the couplers (Puja/baixa la plancha metalica sobre els acoples)
Ctrl+X → Open/close front door (Obri/tanca la porta frontal de cabina)
Ctrl+Shift+X → Activate/deactivate window wipers (Activa/desactiva els parabrises)
Activity codes
You can place a train in your acitivity by using the following lines in your ACT file:
<train pack="FGV" file="FGV2300_2000.xml"/> (old livery)
<train pack="FGV" file="FGV2300_2007.xml"/> (modern livery)

External links