FGV 2500
Jump to navigation
Jump to search
FGV 2500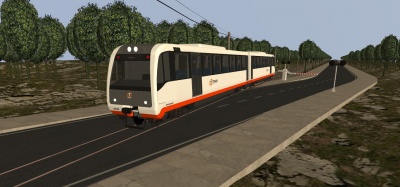 Series
2501-2512
Traction power supply
diesel
Protection
ATB / ZUB max. 80km/h
Download
The FGV 2500, is a two-car diesel powered unit (which started out as the FGV 2300 series) that was in service in "Ferrocarrils de la Generalitat Valenciana", operating in the Alicante's section, commuting first between Alicante (La Marina) – Denia and later with the arrival of the TRAM system, from Benidorm – Denia.
These units were inherited from FEVE, in 1988 and with the transfer of competences of the narrow gauge network from FEVE to FGV, the Valencian public entity kept 8 diesel units to continue service between La Marina – Benidorm – Denia.
During the last refurbishment of these units (2005-2006), all 2300-series units were transformed into the 2500 series, except 2, which remained in original state.
Series: 2500
Type: DMU
Formation: Married Pair
Bearing: B'2 '+ 2'B'
Composition: Mc + Mc
Numbering: 2501-2502 to 2511-2512
Constructed: 1966 to 1968
Reconstructed: 1983 to 1985
Refurbished/modernized: 2005 to 2006
Track gauge: 1000 mm
Traction: Hydraulic diesel
Power: 2 x 245 kW
Motor: 2 x Pegaso 9152/2
Total length between couplers: 31,200 mm
Total weight: 54 tons
Speed: 80 km/h
Capacity: 259 passengers
Activity codes
You can place a train in your acitivity by using the following line in your ACT file:
<train pack="FGV" file="FGV2500.xml"/>

External links