TRAXX F140 MS
From MetroSim Wiki
TRAXX F140 MS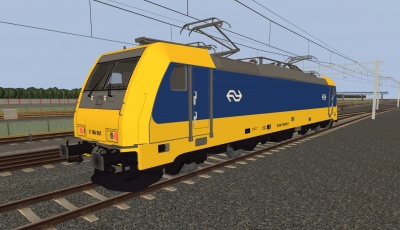 Series
E186 001 - 045
Traction power supply
overhead wire
Protection
ATB-EG / ETCS max. speed 160 km/h
Other
Metrosimulator 3.15 needed
Download
The TRAXX F140 MS is a type of B-B electric locomotive built by Bombardier Transportation. It is a member of the Bombardier TRAXX family of locomotives. They are a Multi-Systems variant of the TRAXX, a quadruple voltage locomotive, able to operate on most European electrification schemes: 1.5/3.0 kV DC and 15/25 kV AC.
NS Class 186
This NS Class 186 locomotives are built by Bombardier Transportation between 2006 and 2014 to replace the failed V250 fyra trains.
The locomotives are used for pulling the ICRmh passenger stock on routes using (at least part of) the Dutch high speed line (HSL), at a speed of 160 km/h. These routes are:
Amsterdam - Rotterdam
Amsterdam - Breda
Amsterdam / The Hague - Brussels (B)
The Hague - Eindhoven (using the HSL between Rotterdam and Breda)
The old Fyra livery is also available in the simulator. The higher numbers of this series have the fyra logo on the side, the lower numbers don't have the logo.
NMBS/SNCB Class 28
The NMBS/SNCB Class 28 number series has been brought back into use for 43 Bombardier TRAXX locomotives which have been hired from Angel Trains Cargo for use with B-Cargo, the freight division of NMBS/SNCB, since renamed Lineas. Several are now running on push-pull Benelux trains, alongside with NS Class 186. The series has 43 locomotives produced but not all in service for the NMBS/SNCB as they are leased from Angel Trains Cargo.
Railpool
Railpool is a European rolling stock leasing company. They offer passenger and freight locomotive and rolling stock financing and leasing, and also advice and services. They own 36 x Bombardier TRAXX F140 MS electric locomotives for lease.
SBB Re 484
This variant is used for cargo transport by the SBB (Schweizerische Bundesbahnen) and are mostly used in Swiss and Italy. The SBB has 21 locomotives in active service.
Operation in Metrosimulator
To use this locomotive in your activities, you can use this code:
NS Class 186: <train pack="TRAXX" file="TRAXX_NS.xml">
NS Class 186 Fyra: <train pack="TRAXX" file="TRAXX_FyraR.xml">
NMBS/SNCB Class 28: <train pack="TRAXX" file="TRAXX_NMBS.xml">
Railpool: <train pack="TRAXX" file="TRAXX_Railpool.xml">
SBB Cargo: <train pack="TRAXX" file="TRAXX_SBBcargo.xml">
The locomotive has four pantographs, three of which can be operated. As Metrosimulator doesn't work with different voltages, it doesn't care which pantograph you are using. Therefore, the AI will always select pantograph 1 when it wants to depart while all pantographs are still down.
Special animations
Shift+X: Open/close left driver door
Ctrl+X: Open/close right driver door
Ctrl+Shift+X: activate/deactivate window wiper
Ctrl+[: Pantograph 2 up
Shift+[: Pantograph 2 down
Ctrl+]: Pantograph 3 (25kV) up
Shift+]: Pantograph 3 (25kV) down
\: Emergency lights (both red and white lights); danger signal to warn other trains.
External links