RSG3
From MetroSim Wiki
RSG3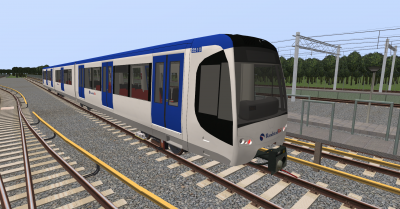 Series
5501-5522
Traction power supply
Third rail and Overhead wire
Protection
ATB max. 80km/h
ZUB max. 100km/h
Along side with the SG3 the RSG3 stock was the fourth type of passenger rolling stock on the metro system of Rotterdam. The trains were built between 2007 and 2008 for the Metrolijn E. These trains were necessary to serve the complete route between Slinge and Den Haag Centraal, which uses ATB as well as ZUB protection, and third rail as well as overhead wire. These multi-functional trains were the best solution for this as the trains are also equipped with overhead wire pantographs and third rail shoes. The fleet consists of 22 sets.
In the Simulator
Like the SG3 and HSG3, these trains can be used on all electrified parts of the network. It includes
New ZUB system version in RSG3/SG3
Since ZUB is a point based system, new signaling may not be received by this trains until they passed a signal. Because of this, when a red signal changed to yellow or green, the cab signal point still force you to slow down to 10km/u. In that case you have to proceed with 10km/u until you reached the system or the train protection system will stop the train.