DDM
From MetroSim Wiki
NS DDM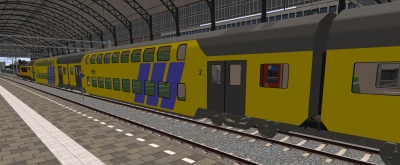 Series
7301-7399
Other
Included in RijndamRail update
Download
The DDM (Dubbel Dekker Materieel) carriage is a doubledecker carriage used by NS (Nederlandse Spoorwegen / Dutch Railways). Normally used in 3 or 4 carriage push/pull formations (including one carriage with a driver position, and an NS1700 or 'mABk' motorcoach at the other end for traction), but sometimes individual carriages could be found in ICR trainsets. These trainsets where mostly used in all stop services; as individual trainsets where short, with a powerfull locomotive, they could accelerate fast, and with a high passenger capacity and wide doors this was ideal on busy routes.
The carriage is also commonly referred to as "DD-AR", to separate it from the slightly older DDM-1 series (recognisable by their red instead of green passenger seats).
Since 2011, 50 trainsets where modernized (these being the trainsets with 'mABk' motorcoach instead of an NS1700 locomotive) with a new interior and new colors (and name changed to "DDZ"). The carriage now being presented features the old colors and interior. As of the 15th of december 2019, the last unmodernized trainsets are out of service.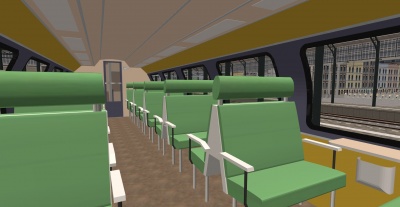 Operation in Metrosimulator
As there is only a middle carriage, you should couple an NS1700 at both ends of your train. Alternatives are to couple a ICR BDs carriage (with driver cab) to one end of the train, or shunt your locomotive around at your end stations (if the track layout allows for it).
The DDM has several passenger views. You can get into the carriage by clicking on the ends of the carriage-icon that appears when you go to the bottom of the screen. Once you are in, the passenger views are accesible under keys 1-7. If you do this while driving the train, do not forget to activate the AI first!
Activity codes
You can place a train containing the DDM your acitivity by using the following line in your ACT file:
  <train pack="RijndamRail" file="NS_DDM.xml"/>

External links