Simvliet Haven
Jump to navigation
Jump to search
Simvliet Haven is an old industrial area just south of the Bergpark depot. It has a rail connection to both the heavy rail line and the Simvliet metro system, which was used to deliver the trains from the factory as well as for exchanging trains with other cities operated by the same company that operates the Simvliet metro. Originally the yard was used for freight trains for the local industry, it contained a hump yard and a couple of platforms for loading and unloading trains. However over the time the industry moved further away from the city centre, which resulted in the railyard to become less used, until it was officially taken out of service in 2015.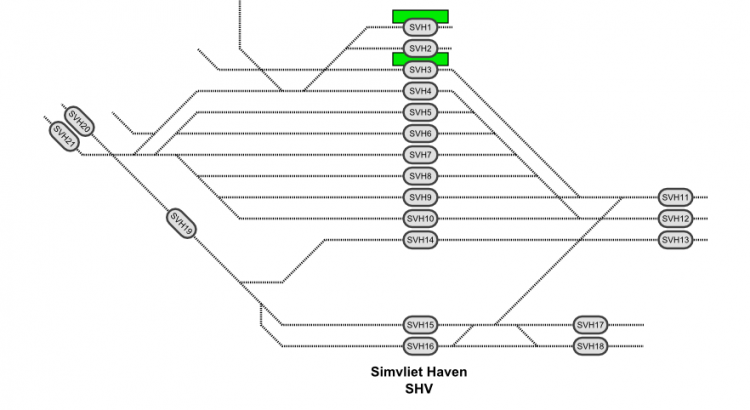 In 2020, the disused railyard became the location for the Simvliet transport museum. Currently a few tracks have been electrified so the trains can be powered and can drive back and forth a bit, there are plans for electrifying more tracks so trains can drive around the yard on their own, however this is still limited by the fact that even though the yard is no longer in official use, it still has to remain operational as it's the only access point to the Simvliet Metro and delivery and exchanging of vehicles has to remain possible, as well as working trains have to be able to reach Bergpark depot.
Since Beta 3.11, more tracks have been electrified, including the one connecting Simvliet Haven with Bergpark Depot. In addition to that, next to the Simvliet Transport Museum, there is now, the Simvliet Haven Railway Station, which has a direct railway connection with Simvliet Centraal.
Editions

Metro lines
Hageningen Tram lines
Railway lines
Depots
Other locations