MG2
From MetroSim Wiki
MG2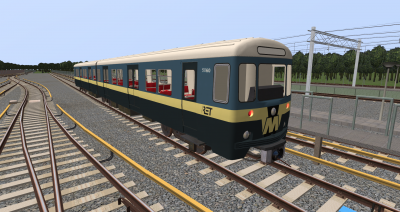 Series
5000, 5050, 5100 and 5150
Traction power supply
Third rail
Protection
ATB max. speed 78km/h
The MG2 stock was the first type of passenger rolling stock on the metro system of Rotterdam . The trains were built in four batches between 1966 and 1975. There are a few visual as well as technical differences between the four batches. The fleet was refurbished between 1985 and 1989. The trains were always limited to the North-south line and the Marconiplein - De Terp route on the East-west line if necessary, because they were never equipped with pantographs for overhead wire but third rail shoes instead. Thus the trains cannot operate between Capelsebrug and Binnenhof/De Tochten. The trains were also never fitted with the ZUB protection system to operate on the "Randstadrail" system which runs on the Slinge - Den Haag Centraal route on the North-south line. The fleet consists of 71 cars.
In the simulator
Like the MG2/1, these trains can be used on third-rail and ATB-protected parts of the network. It includes

First batch : MG2-I series 5000, numberings: 5001-5027, total 27 cars, years built: 1966-1967.
Second batch: MG2-II series 5050, numberings: 5051-5066, total 16 cars, years built: 1969-1970.
Third batch : MG2-III series 5100, numberings: 5101-5126, total 26 cars, years built: 1973-1974.
Fourth batch: MG2-IV series 5150, numberings: 5151-5152, total 2 cars, years built: 1975
Gallery
In the Simulator
In the virtual town "Simvliet" and "Rijndam" these trains can be used on third rail-electrified sections of the network only.