Moderator: senjer
Little present for Sjoerd

Attachments

PSD1.jpg (393.83 KiB) Viewed 3800 times
Posts: 491
Joined: 30 Apr 2018, 17:50

- Likes London Underground
- Somehow relates anything to trains
Posts: 707
Joined: 23 Jan 2017, 15:21
Location: Somewhere in this blue world.
He will love this. Also page 404, page not found.

And you guys maybe thought, I am dead right? Well, I am still alive, but I had something else to do IRL.
Anyway, because it's been a long time, I posted a screenshot. Here's one That's my private tram "TROLLey" in Hagenigen. Yeah getting to Hagenigen from Rijndam took a long time, but it was worth it and driving a TROLLey in Hagenigen wasn't a big diference, if I don't count the lack of security system.
The Backstory for this picture.
After a lightrail between Simvliet and Hagenigen was opened, it was a matter of time before I decide to travel to Hagenigen with my private tram to take a ride on local tram network. One day I finally decided to travel to Hagenigen. Good thing, that during free time caused by COVID 19 I made a few upgrades to my private tram.
1st: I added a speech synthesis engine to the neural net AI computer, so it can talk to me. The languages it uses are Czech (so it can talk to me), Dutch (so it can talk to someone who speaks Dutch) and English (so it can talk to someone who doesn't speak Czech nor Dutch) (not simulated in sim).
2nd: Since I found out, the 25 kV 50 Hz AC to 750 V DC converter I used, isn't energy efficient enough anymore, I've decided to upgrade it. The step-down transformer was enhanced to deliver more power. Rectifier and filtering circuit were replaced by newer ones to decrease power loss and to increase the quality of rectified DC current. Sadly, I couldn't fit the enhanced the 25 kV 50 Hz AC to 750 V DC converter below floor of passenger saloon anymore. My solution? I made a small carriage, which I can couple behind the tram and connect it to tram's panto via a HV wire (you can sometimes see the mentioned wire hanging down from the roof, when the carriage with transformer isn't coupled to the tram). The carriage is equipped by pneumatic brakes to help with slowing down. (in the sim, the transformer carriage is represented by a single NZH C1xx freight car. The transformer in the freight car isn't visible in the sim and the connection cable hanging from the roof isn't visible either. The voltage systems aren't simulated in the sim).
3rd: I installed a pneumatic braking system in order to achieve a better braking and allowing the transformer carriage's brake to function. (in the sim, the NZH C1xx freight car doesn't brake at all).
4th: I installed a better ventilation for traction motors, so I can go further with overdrive enabled (not simulated in the sim).
After I left Rijndam and got to the Hageningen (although I had to use overdrive in a tunnel between Rijndam and Essim. I was surprised that traction motors didn't overheat when I used it for entire ride in a tunnel). I had to at first head to the Hageningen tram depot, because:
1st: Since the Hageningen tram network don't have security system, the map of Hageningen tram network had to be installed to neural net AI computer, if I wanted to let the AI computer drive by itself (when I was driving to Hagenigen tram depot, I had to drive the tram manually).
2nd: Because I didn't need to use the carriage with transformer anymore, I had to store it somewhere.
3rd: In order to control switches, the duty software had to be installed on neural net AI computer. When I was driving to Hageningen tram depot I had to stop and check if the switch was flipped correctly, if not, I had to flip it manually
After these tweaks I started driving on duty. This picture was taken, when I was resting on Strand station, when on line 15.
Note: for more info about my tram, see
here
If you want to make a very fast ride, just disable ATB/ZUB, put trottle to 1.00 and enjoy.
In my Avatar is a Logo of a Prague metro.
Sorry for my bad English. I am Czech and i am learning English
Posts: 565
Joined: 16 Mar 2019, 17:47
Last edited by
AlistairCowell
on 02 Oct 2022, 10:55, edited 2 times in total.
Posts: 104
Joined: 14 Jul 2020, 13:06
Looks like the Class 230 broke down, so the 47 with NS coaches would have to overtake thic InterCity service from Woodford to Ongar...
Attachments

IC 56 with its replacement train at Woodford Depot
icersatz.png (272.84 KiB) Viewed 1930 times
Video of the NZH A300 (and Avenio HTM 2022 livery):
https://youtu.be/tvi8hh6ipDc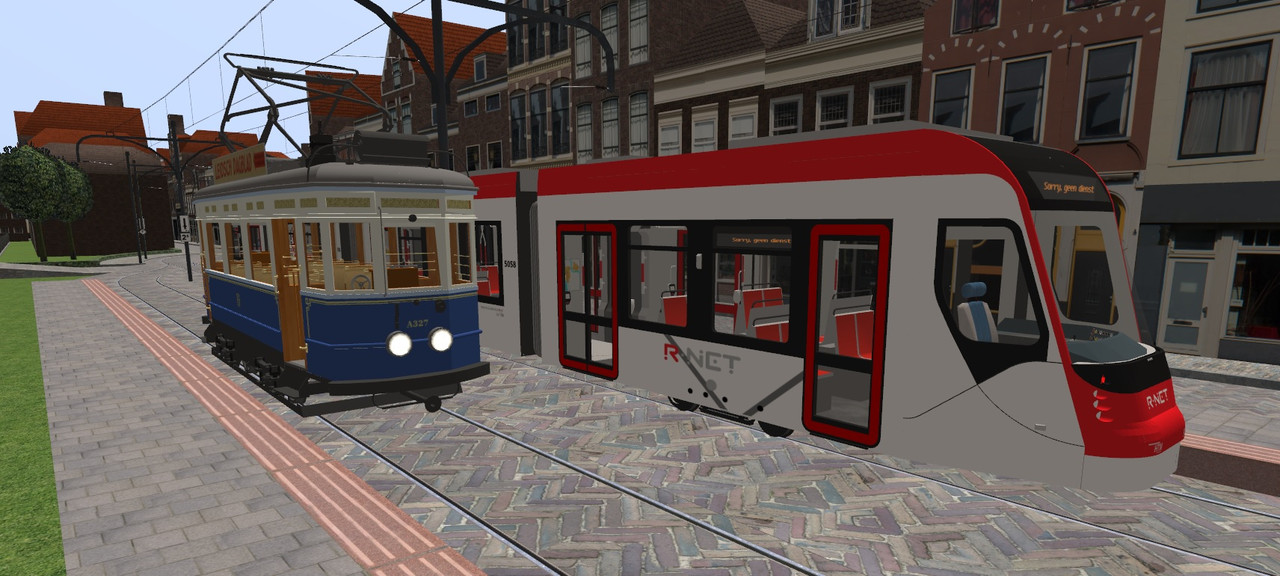 CEO of the Rijndam Electrical Transport company