TorontoStreetcar
From MetroSim Wiki
Toronto Streetcar 509 Harbourfront
509 Harbourfront is a streetcar route in Toronto, Canada, operated by the Toronto Transit Commission (TTC). The line has 12 stops, two of which underground.
General info
Screenshot
Author:
Sjoerd Ydema
Lines:
1
Traction power supply:
overhead wire
Description:
Recreation of line 509 of the Toronto Streetcar system
MetroSim Version Required:
3.15
Download:
Not yet available - Route in production
Toronto 509 Harbourfront (TTC map)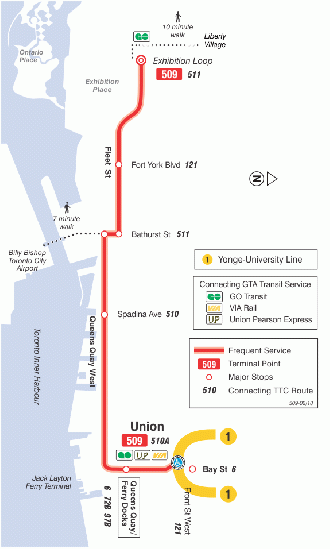 Network information
Lines
Depots
Train-Protection Systems
Train usage
Line 509
509 Harbourfront

509 Harbourfront
Route
Exhibition - Union Station
Length
12 Stops
Tracks
2
Today
In use
Trajectory
Line 509 Harbourfront runs between Union Station and Exhibition, over a distance of approximately 4,1 kilometers. The line has 12 stops, of which two are underground (Unions Station and Queens Quay). Unlike other streetcar routes ("streetcar" = tram) in Toronto, the 509 Harbourfront runs over its full length on separated tracks (right-of-way); aside from road crossings, the streetcars do not run between other traffic.

Two sections of the line are shared with other lines; Between Union Station and Lower Spadina Avenue, the tracks are shared with the 510 Spadina streetcar (Union Station - Spadina Station). Between Bathurst Street and Exhibition, the tracks are shared with the 511 Bathurst streetcar (Bathurst Station - Exhibition).

Along the way, there are two intermediate turning loops; at Lower Spadina Avenue and at Fleet Street. These loops can be used to turn vehicles around in case of disruptions or delays, or to shorten a line during less busy times. For example, the Spadina loop is used on sundays as a terminus for line 510 "Spadina" (Spadina Station - Union Station), at which time only half of the 510 Spadina services continue to Union Station. Both turning loops can be accessed from all sides.

Destination codes:
E - Exhibition
F - Fleet Loop
Q - Queens Quay Spadina Loop
U - Union Station
D - To Exhibition sidings

Rolling stock
Two types of rolling stock are being used on this line; the older CLRV Canadian Light Rail Vehicle and ALRV Articulated Light Rail Vehicle, and the more modern Bombardier Flexity Outlook tram.
In reality, the CLRV's and ALRV's use trolley poles for overhead wire current collection, and the Flexity's have been using trolley poles too (instead of their pantograph), while the overhead wire system was adapted for pantograph use. Line 509 Harbourfront became the first line to be converted, and can now both be used by trolleypole and pantographs. However, as Metrosimulator does not facilitate the use of a trolley pole, only pantographs have been installed.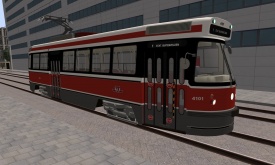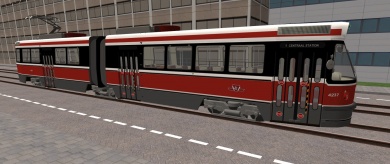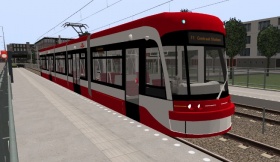 Signalling system
As driving on sight is not an option in Metrosimulator, a fixed block system has been installed on the line, with ATB train protection. The allowed speeds are being shown on the driver panel, and enforced by the system. If the next block is occupied, or switches have not been set, the maximum speed is 10 km/h. In this case, you may not pass the next "S"-sign next to the tracks, which indicate the block separations, until you get a higher indicated speed limit. The blocks have been kept short to allow short following distances.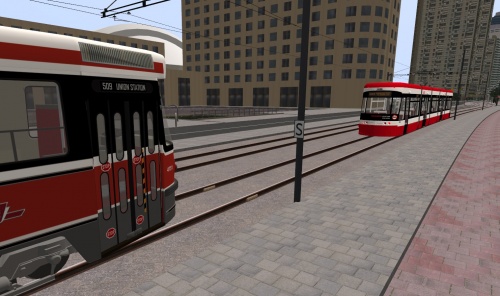 The line is also equipped with traffic lights. Unlike the standard in Europe, be aware that in Toronto, the traffic lights are usually situated on the opposite side(!) of the intersection. So you may not approach a red signal (as you then would be in the middle of the intersection). Also be aware that when making a left or right turn, the traffic light you need to look at will be opposite from where you came from, and NOT the traffic light which might be right next to the tracks at the intersection-exit where you are going.
The traffic light in the screenshot below is valid for streetcars driving straight ahead, and NOT for streetcars coming from the left: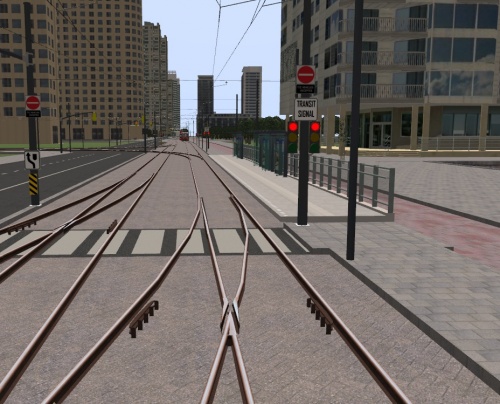 Even though the transit signal has a double layout, these are not double signals; both lights are for the same direction.
Special thanks
The line is being created for use in Metrosimulator, in partnership with T2P Films Developments (https://developments.t2pfilms.ca/Downloads.html), who are providing a number of 3D objects for the simulation.