SG2
From MetroSim Wiki
SG2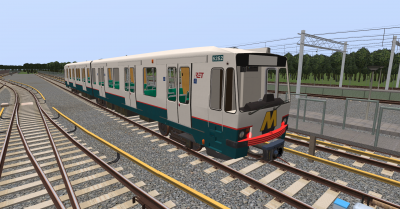 Series
5200
Traction power supply
Third rail and Overhead wire
Protection
ATB max. speed: pre refurbishment 78km/h, after refurbishment 80km/h
The SG2 stock was the second type of passenger rolling stock on the metro system of Rotterdam, and is technical almost identical to the MG2 stock. The trains were built between 1980 and 1984 and were originally coloured blue/orange-red. The fleet was refurbished between 1997 and 2001. Alongside with a technical overhaul, they were repainted grey/red/green during this refurbishment. The trains are mainly operational on the A, B and C sections of the East-west line. However the D section of the North-south line sees SG2 services if necessary. The trains are equipped with pantographs for overhead wire as well as shoes for third rail. The fleet consists of 71 cars.
Numberings: 5201-5271.
In the Simulator
In the virtual towns "Simvliet" and "Rijndam" these trains can be used on ATB-protected sections of the network.