HSM
From MetroSim Wiki
High Speed Metro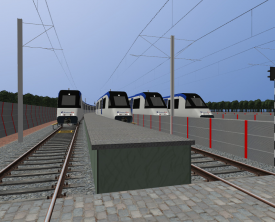 Series
HSM
Traction power supply
Third rail and Overhead wire
Protection
ATB and ZUB max. speed under protection: 100 km/h. Top speed possible: 250 km/h
The High Speed Metro is the fastest train on the Simvliet network, with an incredible acceleration and a unprotected top speed of 250km/h. But because high speeds are not possible on high density metro networks, this train is totally fictive.
The Train has on door on each side each wagon. The whole train can also be repainted, as well as the destination board.
The Train currently has a bug that fails the protection system when returning to ATB from ZUB.
Speed Record
The HSM trains can cover the distance between Simvliet Airport and Lelywaard in 4 minutes, 10 seconds and 21 centiseconds (4:10.21), without stopping at any station and following the quickest track way.
The train's top speed, during the route, was 251 km/h (156 mph), when going down the bridge between Parklaan and Oostpark.
Times
This is how long it takes, the HSM, to complete the following routes (non-stop), with protection disabled: