Coen Moulijn line
From MetroSim Wiki
Kralingse Zoom - Zuidplein
The Coen Moulijn line is a fictional, possible future line in Rotterdam between Kralingse Zoom and Zuidplein. It has been part of many political debates over the last years, as of yet no decision has been made whether this line will be build and whether it will be a metro or tram line. The line in Beta 3.13 is therefore a fictional line.
The line
The fictional route runs underground entirely. It follows the streets as much as possible for easy tunnelling. For this reason the station of Zuidplein is located about 150 meters south of the current station from the lines D and E, otherwise a tunnel would have to be constructed below the shopping mall. A moving walkway connects both stations. The location of the station also allows for easy extension towards the west side of the city in the future.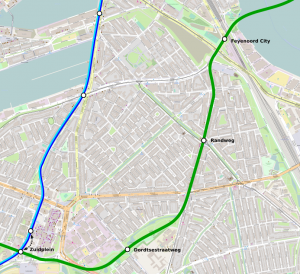 From Zuidplein the line has two additional stops before arriving at Feyenoord City. This station is located close to the new stadium of Feyenoord. At this point, train, tram, and boats come together, making it the place for the perfect transfer station by moving the station of Rotterdam Zuid southward and creating additional tram stops for the lines 20 and 25.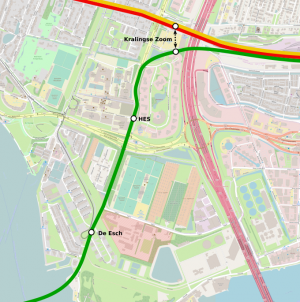 After diving under the river, the line arrives at De Esch, the current terminus of tram lines 21 and 24. Here the metro continues below the Kralingse Zoom (the road, not the station) with one additional stop at the University campus until finally arriving at the station of Kralingse Zoom. The platforms are situated about 100 meters south of the current platforms on the other side of the parking garage. This allows the line to be connected to the existing tracks towards Capelsebrug without having to make a very sharp turn.
Extension to Binnenhof
At the moment the fictional route ends at Kralingse Zoom with two underground tailtracks behind the station. The idea, however, is to make a connection with existing metroline A towards Capelsebrug. To make this connection without limiting the frequency on the existing lines, Capelsebrug will have to be given a fourth track at the location of the current bus platform. Tracks 1 and 2 can then be connected towards Zuidplein (running parallel with the tracks towards Schiedam for about 1 kilometer) while lines B and C can use the outer tracks 3 and 4, creating the following layout:

This will create a direct connection between Alexander and Zuidplein, while line B will continue to provide the connection with the city centre. By reducing the main line to just two instead of three lines, the frequency on all lines can be increased.