LU S7 and S8 Stock
From MetroSim Wiki
London Underground S7 and S8 stock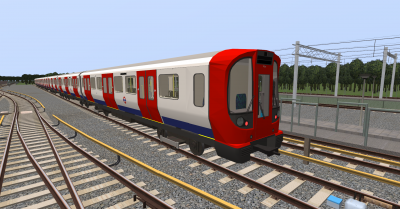 Series
S7: 21301-21375
S8: 21001-21075
Traction power supply
3rd/4th rail
Protection
ATB max. speed 100 km/h
Download
The London Underground S7 and S8 Stock is a fleet of subsurface rolling stock used on the London Underground since 2010. Manufactured by Bombardier Transportation's Derby Litchurch Lane Works.
It has replaced all A, C and D stock trains on the network, in order to introduce a standardized train series for all subsurface lines on the network. Two variants are currently in use on London; the S7 (consisting of 7 cars) on the District line, Hammersmith & City line and Circle line, and the S8 (8 cars, and a different seating arrangement) on the Metropolitan line.
Operations In Simulator
The Metrosimulator S stock trains are composed as one single unit with drivers cabs on both ends.
One S7 unit is, in length, comparable to a set of four coupled Rotterdam MG2/SG2 units, and will therefore fit along most Simvliet and Rijndam platforms.
The S8 version is, with a length of 133,682 meters, too long for most Simvliet/Rijndam platforms; the AI will not stop at the last stopmarker, if the length of the train is longer then the valid length for that stopmarker. If this is the case, you can still use the train, but you will have to drive it manually, stopping with the front of the train just at or past the platform end (in a way that your first and last passengers doors are within the length of the platform).
Special animations
Shift+X: Left cabin door
Ctrl+X: Right cabin door
Ctrl+Shift+X: activate/deactivate window wipers
External links