Difference between revisions of "LU2009"
From MetroSim Wiki
---
Revision as of 15:44, 8 February 2020
London Underground 2009 stock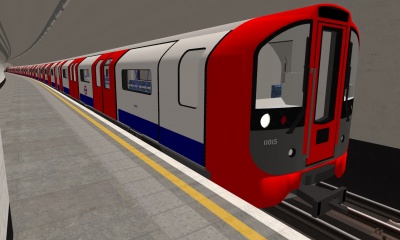 Series
11001-11094
Traction power supply
3rd/4th rail
Protection
ATB max. speed 100 km/h
Other
Download available soon
The 2009 stock trains were built by built by Bombardier as part of its Movia family at its Derby Litchurch Lane Works, England. A total of 47 eight-car trains have been built for the Vicotrialine. Each train is made up of two four-car units, coupled together, with each unit consisting of a Driving Motor car (DM), a Trailer car (T), a Non-Driving Motor car (NDM), and an Uncoupling Non-Driving Motor car (UNDM). The six-car trains are therefore formed DM-T-NDM-UNDM+UNDM-NDM-T-DM.
The 2009 stock entered service between July 2009 and June 2011, replacing old 1967 Stock on the London Underground Victorialine.

Train details
Length per carriage 16,4 m
Width per carriage 2,62 m
Height 2,883 m
Total passenger capacity per eight-carriage train 876
Special animations
DM-cab:
Shift+X: Left cabin door
Ctrl+X: Right cabin door
Ctrl+Shift+X: Front cabin door

UNDM-controller:
Shift+X: open/close shunt controller
Ctrl+X: open/close emergency door
Ctrl+Shift+X: activate/deactivate window wiper

Activity codes
You can place a train containing the 2009 stock train your acitivity by using the following lines in your ACT file:
  <train pack="London" file="LU2009_A.xml"/>  (front half of the train)
  <train pack="London" file="LU2009_B.xml"/>  (rear half of the train)

External links