Difference between revisions of "ICM"
From MetroSim Wiki
m

m

 

Line 34:
Line 34:
 

Ctrl+[: Pantograph 2 up<br>

 

Ctrl+[: Pantograph 2 up<br>

 

Shift+[: Pantograph 2 down

 

Shift+[: Pantograph 2 down

 
+
 
+
 
+
 
+
 
+
 
+
 
 
 

==External links==

 

==External links==
---
Latest revision as of 15:23, 8 February 2020
ICM 1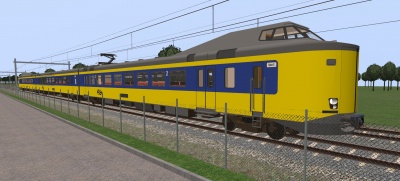 Series
ICM-1: 4011-4050
ICM-3: 4201-4230
Traction power supply
overhead wire
Protection
ATB-EG max. speed 140 km/h
Other
Included in RijndamRail update
Download
The Intercity Materieel or ICM (English – Intercity Material or Intercity Rolling Stock) is an electric multiple unit (EMU) train type operated by the Nederlandse Spoorwegen in the Netherlands. The train got the nickname Koploper, because it had a so-called "walk through head". When these trains were modernised, the "walk through heads" were removed. The modernised train sets are referred to as Intercity Materieel Modern (ICMm).
The prototypes were built in 1977, and production lasted from 1983 to 1994 by Talbot. The first train sets came into service in 1977. Up to now, the trains run daily on the Dutch rail network and, together with the VIRM, form the most important equipment on services connecting the Randstad with the rest of the country.
Operation in Metrosimulator
For Metrosimulator, the unmodernised state of the train will be recreated.

The unmodernised state was chosen, as this state comes with the option of using the walkways to connect two trainsets together. The procedure for doing this:
1) Couple the two trainsets together
2) From the cab, press the "Doorloopkop Koppelen" button (in the simulator: Ctrl+Shift+X). In reality, this will now couple both walkways together simulatiously. However, in the simulator it works only on the trainset you are in. So;
3) Go to the cab of the other train, and press Ctrl+Shift+X from there too.

The ICM trains can be used on all mainline railways (with overhead wire power supply) in the simulator, except the high speed line (and the Noorderpoort - Airport line in Rijndam 1985, due to too low overhead wires).
For the simulator the 3-car ICM-1 and the 4-car ICM-3 are being recreated.
Finishing of this train was delayed due to earlier computer failure, causing the loss of about 80% of the work. Work on it has resumed and is expected to be ready by the end of the month (december 2019).
Special animations
Shift+X: Open/close kitchen or trainconductors office
Ctrl+X: Open/close driver door
Ctrl+Shift+X: Open/close walkway
Ctrl+[: Pantograph 2 up
Shift+[: Pantograph 2 down
Activity codes
You can place a train containing the ICM train your acitivity by using the following lines in your ACT file:
  <train pack="RijndamRail" file="NS_ICM1.xml"/>  (3-car version)
  <train pack="RijndamRail" file="NS_ICM3.xml"/>  (4-car version)

External links