A wile ago this topic appeared, with a poll attached to it which got a 78% positive reaction.
Well, it seems you get your wish.
The past month I have been working on a new project. As I already have released three Toronto trams, why not a Toronto tram route?
Now, Toronto is a pretty big city, and it is almost all surface lines, so that limits the possibilities a bit. So do not expect that sort of thing (all lines)

Let's make it simple, which most computers should be able to handle; one line, and not a very long one, but still a bit divers in environment.

I present: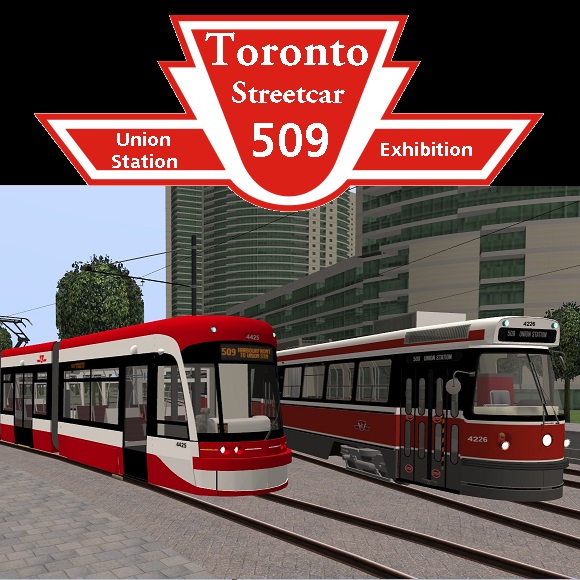 (I personally do not like the term "streetcar", as that can mean any car on the street, and not just trams. But over there, they insist on calling it that... So I'll do it too, but only for this project.

)
The project is in partnership with T2P Films Developments (
https://developments.t2pfilms.ca/Downloads.html
), based in Toronto, who have offered to make a series of objects for the route.

And ofcourse 3D Warehouse, where a lot of buildings along the line originate.
Streetcar 509 "Harbourfront"

; in Toronto, the tramlines have not only line numbers, but also line names. These names are displayed on the top of the Flexity destination displays.
The line is approximately 4,1 kilometers long, and has 12 stops. Two of these stops are underground (Union Station and Queens Quay).
Along the way, there are two intermediate turning loops; at Lower Spadina Avenue and at Fleet Street. These loops can be used to turn vehicles around in case of disruptions or delays, or to shorten a line during less busy times. For example, the Spadina loop is used on sundays as a terminus for line 510 "Spadina" (Spadina Station - Union Station), at which time only half of the 510 Spadina services continue to Union Station.
Both turning loops can be accessed from all sides.
The track layout in the CVL:

Obviously not to scale; for example, the 4 platforms on the left are all the same stop; the terminus "Exhibition" has an arrival platform and 3 departure platforms.
And... This route is also equipped with traffic lights. As MG2 recently posted, a red/green cycle program is not an option, but with some creative thinking.... All public transport lights are functional, and a number of car-traffic lights are functional too.

The line functions with ATB, just like the tramlines in Rijndam. I have kept the block-lengths short, so you do not have to stay far behind a preceding streetcar. Just remember not to pass an S-sign next to the tracks if the ATB gives you a 10-absolute signal. Oh, and also, always: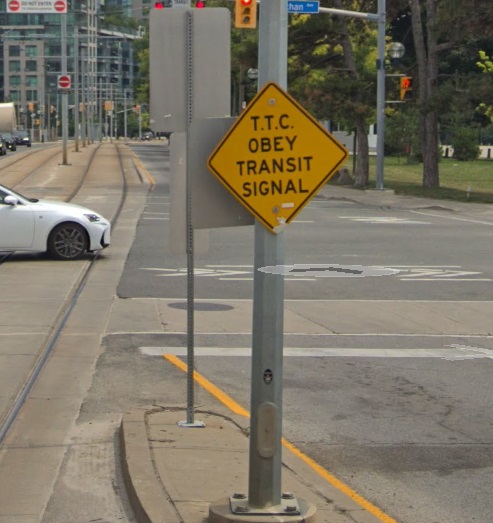 (Yes, this sign also made it into the route

. And for those who did not know yet, TTC = Toronto Transit Commission, the public transport company in Toronto. The label in the top screenshot is based on the TTC logo.)
And now, some screenshots;
Union Station: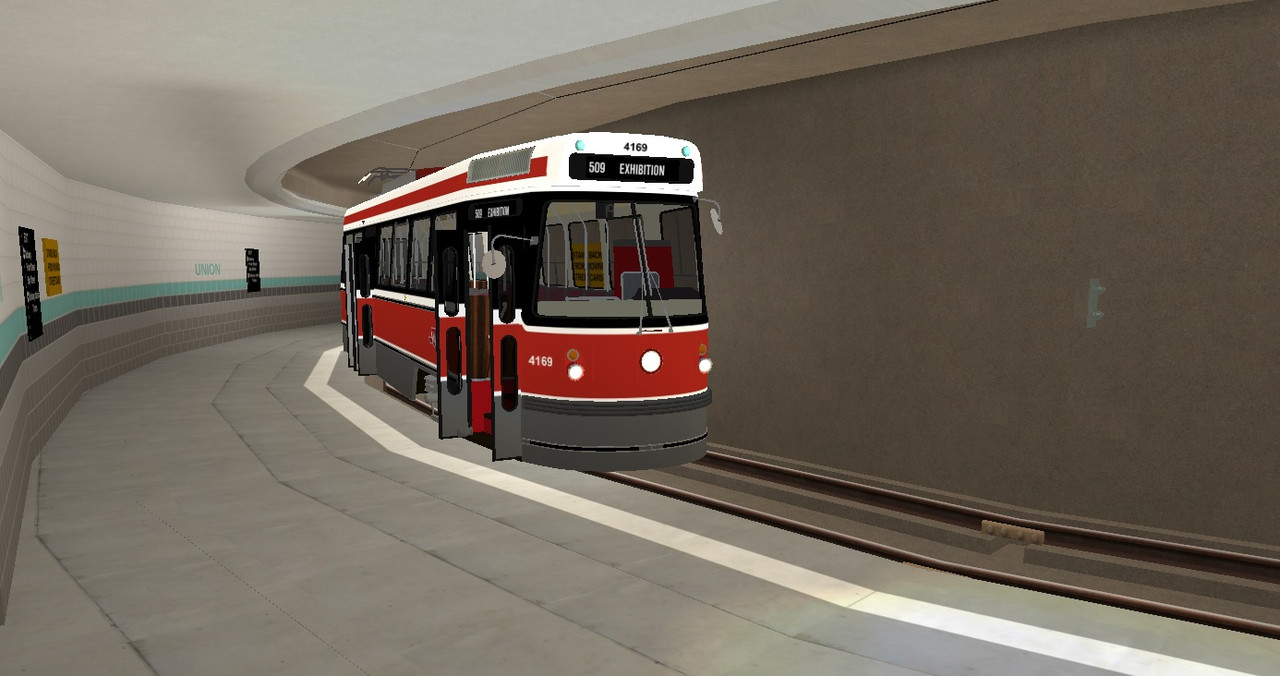 At least these stations still connect with "Metro"simulator

Queens Quay:

Queens Quay, tramstop Harbourfront Center, with a historic tram borrowed from Rotterdam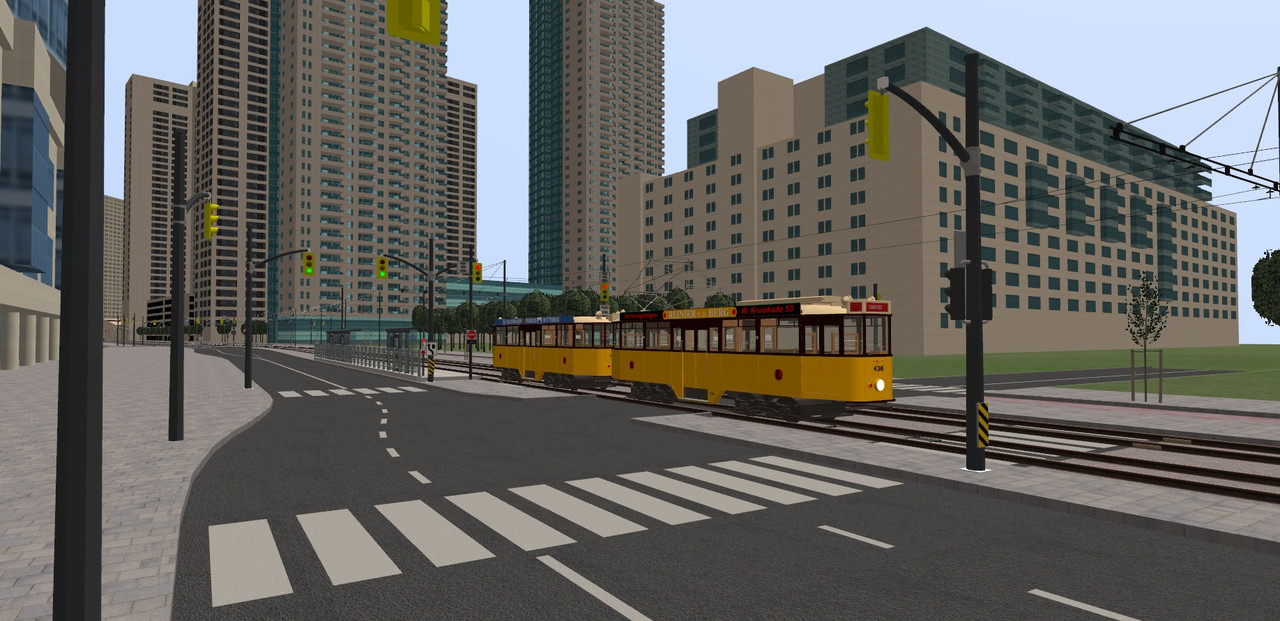 In Toronto, public transport signals are a set of two normal signals next to each other, which both give the same signal aspect, with a sign "Transit signal" next to it: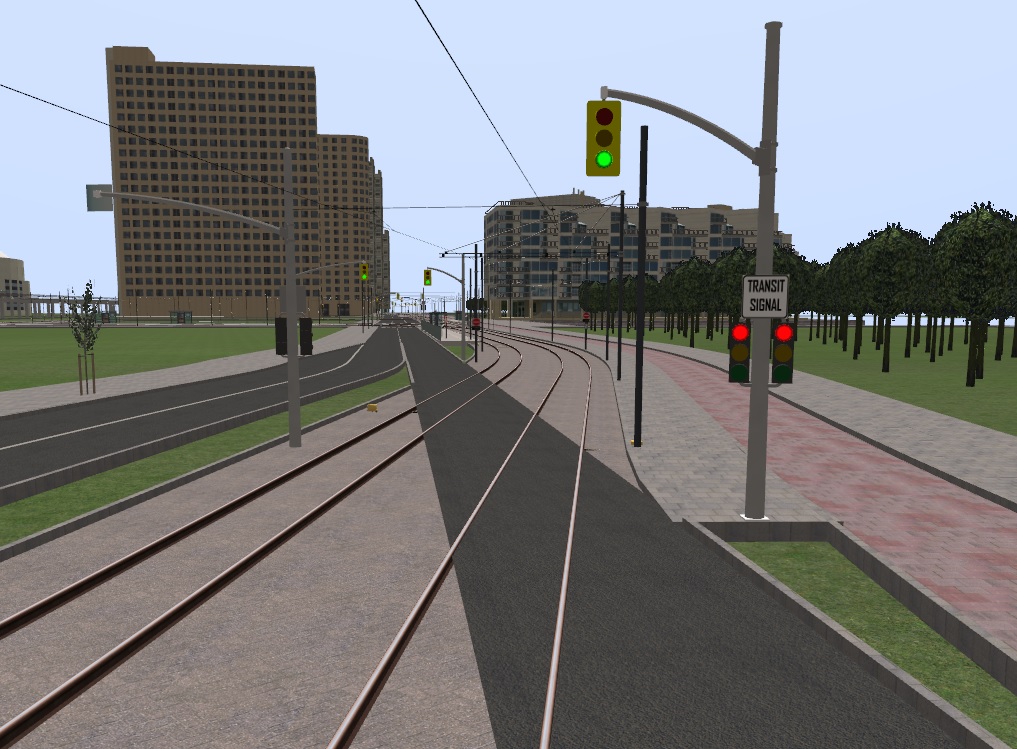 (Also, most traffic lights are on the opposite side of the intersection, so
after
the crossing they are ment to secure. In only a few cases, like the on in this screenshot, a light before the actual crossing is present.)
Thanks to T2P Films, an ESSO station, at the corner of Bathurst Street and Lake Shore Blvd.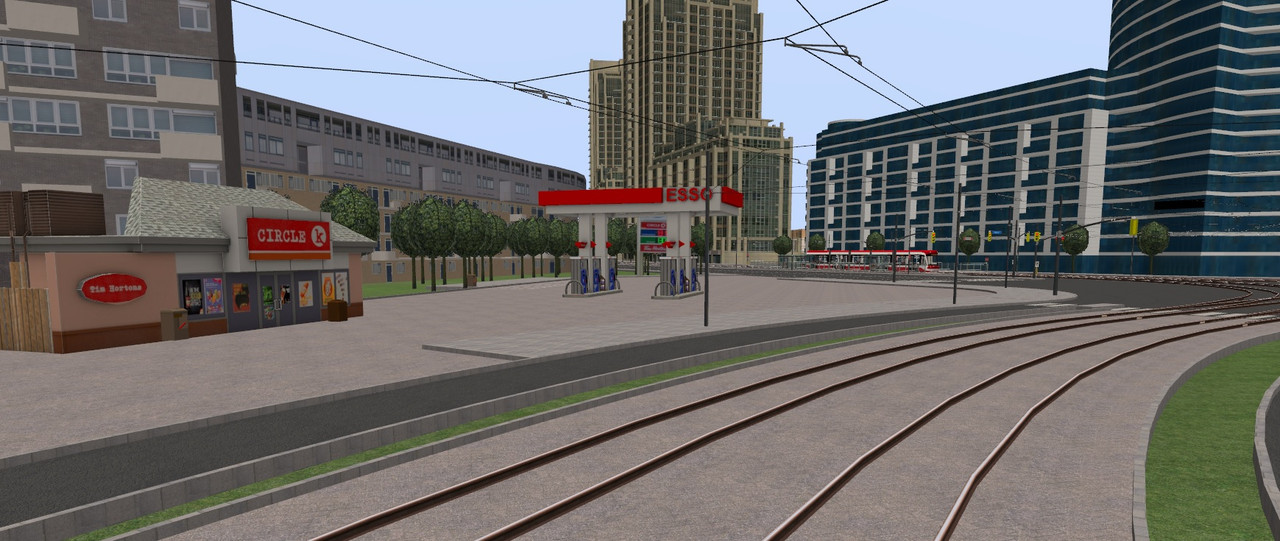 Fleet loop, with the historic Queens Warf Lighthouse in the middle:

The curve radius is a bit bigger then in reality; I had some limitations to work with. But the result is still pretty good.
A wiki page will soon be opened for this project.

Note: a release date is unknown at this point.