Not a singel reason tot be against that

.
You can add it here:
http://sim.bemined.nl/wiki/Afroeptool
---
Great! I'm also going to make an Afroeptool Add-one page (like a showroom), so anybody can upload their own recordings.
Edit:
Link to the new wiki page
.
---
@Jim2016 How do you translate HalteOmtoerp in english?
@everyone How HalteOmtoerp Works to :
1: play a record in-game
2 create they own lines ?
Citadis : French Type of trams (yes, i'm french

)
Sorry for my english but enjoy Metro Sim Beta!
---
Using a resource editor.
Resource editors let you edit menus included in any .exe file (even the setup menu of the simulator)

As long as the HalteOmroep program is open, you can press "+" for the next announcement while having any other window active, including the simulator.
1. Record each announcement you want to add using a text-to-speech program or your own voice
2. Create a folder in the "mp3" folder for each line (in order for the recordings to be more organized) which comes along with the program and paste each recording in the suitable folder
3. Open the HalteOmroep.txt file
4. At the end of the file, leave a blank line, write the name of the route and below that (each recording in a different line) write the path for each recording, in the right order.
Example: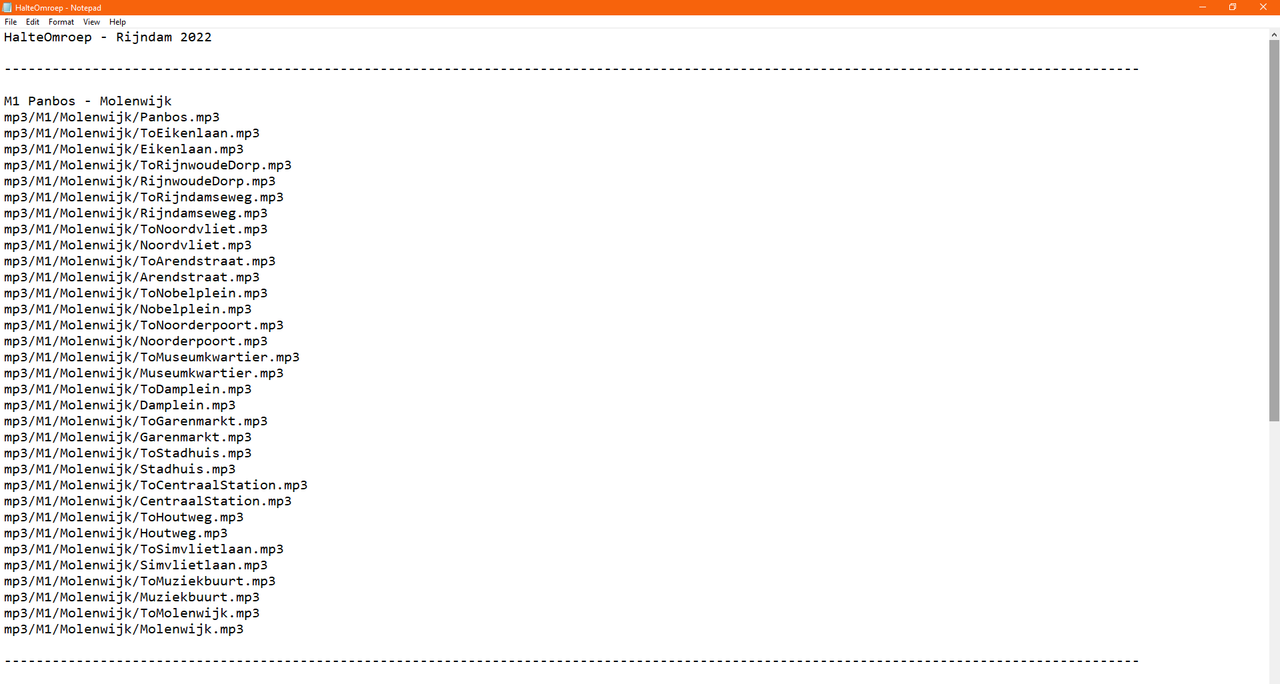 I hope you understood

---
Posts: 109
Joined: 29 Jan 2017, 01:56
Location: somewhere, over the rainbow...
Contact:
Version 0.2 is released, and here's how to install it:
*
NOTE
, if you have already downloaded the previous version, skip steps 1 and 2 and make sure you rename
Instructions, Changelog and Credits.txt
to
Changelog and Credits.txt
.
1. Download any Afroeptool program from:
http://sim.bemined.nl/wiki/Afroeptool
. You can put the files from the zipped one in any folder (preferably in My Documents).
2. Delete
Changelog.txt
,
HalteOmroep.txt
and
everything inside the mp3 folder
.
3. Go to:
https://drive.google.com/open?id=1rtYm3 ... FOZ2vNNeSH
. From there open
Rijndam 2022
and
Version 0.2
, there should be a zip file.
4. Download the file and unzip it into the folder you put the Afroeptool program in
or
unzip it to your desktop and cut and paste into the folder.
MAKE SURE IT REPLACES ALL EXISTING FILES!
Please read
Changelog and Credits.txt
before posting a question here.
If your problem is not adressed there, please respond to this topic.
Cheers!
Check out my custom made announcements for Rijndam at
viewtopic.php?f=7&t=1052

Happy MetroSim-ing!
---