Search found 357 matches
UPDATE: the problem is now happening. In the first try, I spawned a 5200-2010 on the Airport depot (line M4), but then I spawned a 5200-2010 train on the Airportshuttle depot, track 1, and the game was still working. However, when I reopened the game, I first tried to spawn a 5200-2010 train on the...
by MP 85

08 Jun 2018, 21:19
Forum: General
Topic: Screenshots & Videos
Replies: 1139
Views: 129777
Metro Simulator Beta Family

by MP 85

08 Jun 2018, 11:45
Forum: Bug reports
Replies: 6
Views: 611
I was playing in Rijndam... And in older versions (3.12) it used to work. That's why I assumed it is a bug. About the not working Rifi's in Rijndam in Beta 3.14 (noticed on the RijndamRail SG4, the RSG2 and the Airport shuttle); here is a fix: https://we.tl/J0XEVJC6R6 I have included the files for ...
You can do this by following the instructions on this page

http://sim.bemined.nl/wiki/Basic_Activity_Guide
Where you can observe the activities present in the simulator (by opening with the notepad the files which have the extension * .act)
Processor: Intel Core i5 processor 4440 Graphics: NVIDIA GeForce GT620 1024MB Hard Drive: 500GB Hard Drive Memory: 4GB DDR3 Memory Running with Windows 10. I think this is not from the graphics card, but from the settings in the menu "Metro Simulator Setup" and you have put the objects on low. We r...
I think you set these settings to the lowest (textures, terrain, objects), which makes some objects disappear.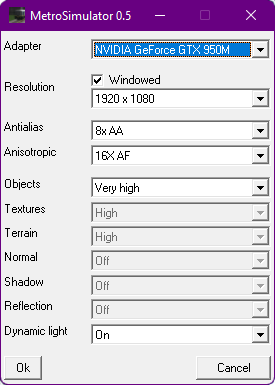 Or your graphics card is not performing well enough, could you give us your specification of your PC and your graphics card.