Search found 360 matches
23 May 2018, 12:56
Forum: General
Replies: 4
Views: 275
First of all, you need Node JS https://nodejs.org/en/ Then you download the mikannounce tool and unpack it somewhere. Where doesnt matter, but its best if its a location you can easily type into command prompt. Then you open command prompt by pressing windows + R, then typing "cmd" and hitting enter...
21 May 2018, 22:11
Forum: General
Replies: 4
Views: 275
So this is kind of a old project of mine, and I stopped working on it some time ago, mainly because of missing knowledge, but also because coding is not really my thing and I prefer building train routes in a visual 3d world editor. However, the recent conversation in the Rijndam announcements threa...
21 May 2018, 18:23
Forum: General
Replies: 76
Views: 10476
21 May 2018, 06:15
Forum: General
Topic: MetroSim Android
Replies: 9
Views: 337
On a completely unrelated sidenote, you can play metro sim on a Windows tablet if you turn dynamic lighting off and find either a screen keyboard or connect a real one over USB.
So obviously not much thinking went into this, as playing the game on the go isn't really a miracle

19 May 2018, 10:57
Forum: General
Topic: Beta 3.14
Replies: 66
Views: 2521
By just typing Metro Sim into your taskbar you should find Metro Simulator Setup - which effectively allows you going back to the settings without having to locate and delete the config file btw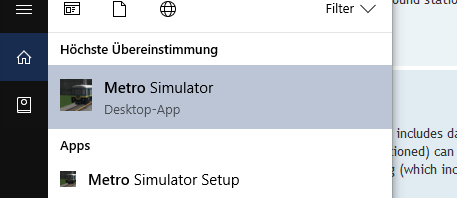 Greets, Mika
19 May 2018, 10:52
Forum: General
Replies: 50
Views: 5864
If anyone wants to reanimate the topic of a announcement tool for the current routes, I have written (or started writing) a more capable tool in JS. It accepts stuff such as "this station is..." "this train terminates at..." and "this train is ready to depart" in a map file storage format which does...
17 May 2018, 20:13
Forum: General
Topic: Rijndam Express Trolleybus
Replies: 5
Views: 196
I mean we are obviously getting far out of what Metro Sim is supposed to do or be, but trolleybusses sound like a fun idea nonetheless. If the game will ever allow the addition of custom objects, I can imagine someone will sooner or later make a trolleybus that can drive on invisible rails under the...
17 May 2018, 11:03
Forum: General
Topic: Rijndam
Replies: 1698
Views: 154460
16 May 2018, 21:22
Forum: General
Topic: Rijndam
Replies: 1698
Views: 154460
Well this is kinda off topic, but lemme answer your question anyways... The Metro trains are equipped with "Schaku" automatic couplers. Schaku couplers are designed so that they indeed only need to bump into each other, then they automatically snap together and couple. Decoupling is possible fairly ...