Search found 364 matches
11 Jul 2018, 09:35
Forum: General
Topic: Screenshots & Videos
Replies: 920
Views: 89423
Well I think the problem is that the whole indicator script in MetroSim was made for the SG2, which indeed never displayed indicators on the whole train. The reason for that is that they never needed nicely working indicators. They just needed to have indicators at all to serve Sneltram sections. No...
03 Jul 2018, 15:39
Forum: General
Replies: 30
Views: 1410
Well unless this is a questionably modelled moon, its most likely that the project is going to be a new train (and this is a frontlight). However, with just one light and no further information given, its pretty hard to guess anything from that. Also multiple trains already in MetroSim use frontligh...
18 Jun 2018, 19:08
Forum: General
Topic: Rijndam
Replies: 1962
Views: 180382
To me it seems the american lightrail is simmilar to the german Stadtbahn. You see, we actually have a finer sorting of train types. Stadtbahn refers to a (faster) Tram that also includes aspects of Metro trains. Or you could also describe it as a Metro thats partially streetrun, such as line M2 in ...
27 May 2018, 15:51
Forum: General
Replies: 7
Views: 694
As I mentioned, this is far from finished Maybe when I'm super bored I'll complete the map files and activity files, then I can just make a video on how to install I think what you got wrong is that discord itself is not at all needed. However, once you installed nodejs you need to install the code ...
23 May 2018, 12:56
Forum: General
Replies: 7
Views: 694
First of all, you need Node JS https://nodejs.org/en/ Then you download the mikannounce tool and unpack it somewhere. Where doesnt matter, but its best if its a location you can easily type into command prompt. Then you open command prompt by pressing windows + R, then typing "cmd" and hitting enter...
21 May 2018, 22:11
Forum: General
Replies: 7
Views: 694
So this is kind of a old project of mine, and I stopped working on it some time ago, mainly because of missing knowledge, but also because coding is not really my thing and I prefer building train routes in a visual 3d world editor. However, the recent conversation in the Rijndam announcements threa...
21 May 2018, 18:23
Forum: General
Replies: 76
Views: 11433
21 May 2018, 06:15
Forum: General
Topic: MetroSim Android
Replies: 11
Views: 781
On a completely unrelated sidenote, you can play metro sim on a Windows tablet if you turn dynamic lighting off and find either a screen keyboard or connect a real one over USB.
So obviously not much thinking went into this, as playing the game on the go isn't really a miracle

19 May 2018, 10:57
Forum: General
Topic: Beta 3.14
Replies: 107
Views: 6441
By just typing Metro Sim into your taskbar you should find Metro Simulator Setup - which effectively allows you going back to the settings without having to locate and delete the config file btw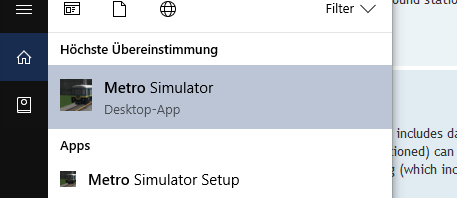 Greets, Mika